Reduce your stress.  Inform your future.
Have you ever thought:
"I feel like I'm constantly rushing but I'm never sure I'm doing enough."
"I'm afraid if I don't get involved in enough extra-curriculars that I won't get a good job or get into grad school."
"I'd like to try some different things...but I'm not sure what to let go of or how to choose what's 'best'."
"I sometimes feel overwhelmed by trying to be super engaged."
How about stopping for a moment to recognize and celebrate how It All Adds Up?
make informed decisions about how best to spend your time (which will look different for everyone)
develop confidence, knowing that if you are engaged in interesting things, you are developing skills, knowledge, networks  etc that will "add up." 
Visit the It All Adds Up booth on November 20th-22nd at Queen's Centre or at other events during the school year. We hold the following fairs:
Summer Opportunities Fair - January 21, 2020
Engineering & Technology Fair - January 22, 2020
It All Adds Up 2019-20 is proud to partner with:
This year (2019-20), we are collaborating with the Queen's Alma Mater Society to continue our annual career wellness campaign. During November, we will revisit previous It All Adds Up stories and encourage students on campus to share their own, through social media or at the launch week event.
Join your friends here at Queen's and post your IAAU story on social media. Post using the hashtags #italladdsup + #queensu on Instagram or Twitter, like these students did:  
Post a photo of yourself on Instagram using hashtags #italladdsup and #queensu
Reflect on a few items from this list:

Your program 
What you like best about your program 
Jobs you've held 
Volunteer roles 
Activities you love doing 
Things most people don' t know about you
Clubs
How other people describe your personality/strengths 
Interests/hobbies 
Sports/Music/Arts
What you want to be known for (e.g. changing the world; building greener houses)
What skills you want to develop (e.g. Adaptability, Communications, Intercultural Competency...)
Anything else that makes sense for you

On the same post, describe if...

You're wondering how it all adds up
It's all adding up to _____ (e.g. "It's All Adding Up to...Me, feeling happy," "It's Adding Up to...working with plants," etc.)
I'm hoping It All Adds Up to _____ (e.g. "It's All Adding Up to...medical school," "It's All Adding Up to... a summer job in a community agency," etc.)

Take a deep breath and reflect on your current activities and achievements.
Celebrate accomplishments and skills with your peers!
Get inspired by other students!  Follow and post to #italladdsup on Instagram and Twitter.
• Visit the IAAU launch week event booth on November 20th-22nd, 11:30 AM- 1:30 PM in the Queen's Centre,  and see how your experiences can add up to your future career development!
• Use our tools and resources to help you Add It All Up and make decisions about what to keep or expand.  
• Take these workshops to help you Add It All Up:
Career Exploration Workshop – Ready, Set, Career! Dates and sign up info. 
Start uncovering future possibilities while playing the "Who You Are Matters" game. 
Job Search Workshop – What's your story? Dates and signup info.
Take your job search to the next-level with story-telling. 
Are you feeling...?

 

Stressed or pressured to always do more?

Many students report feeling this way, at least some of the time. Asking yourself these questions may help you figure out the cause and inspire you to pursue some of the related resources:

Is quantity of activity the best predictor of future success?  Who says?
Do your activities energize you?
How many doors are you trying to leave open? Is it doable?
Are there activities you would prefer to be doing instead?  Or, would reducing the amount/quantity of time spent help?
What are some things you could do to help reduce the pressure to keep adding more activities?

 

RESOURCES:

Developing Mindfulness (SASS):

Mindfulness: Focusing & awareness (PDF, 308 KB)

Your Best You:  Improving Your Mood workbook (Student Wellness Services)

Are you feeling...?

 

Overwhelmed or lacking time?

You are not alone. Asking yourself these questions can help you fine-tune things and connect with helpful resources:

Assess what you are already doing.
Remember that some people thrive on variety while others get tired from 2-3 activities.  There is no one answer.
Do you prefer to have breadth or depth?

 

RESOURCES:

Weekly schedule template (SASS):

https://sass.queensu.ca/wp-content/uploads/2018/06/Weekly-Schedule-Template-Fillable.pdf

Weekly time use chart (SASS):

https://sass.queensu.ca/wp-content/uploads/2019/05/Weekly-time-use-chart-2019.pdf (PDF, 308 KB)

Time management tips (SASS):

sass.queensu.ca/time-management/

Advising appointments with Learning Strategists (SASS) to help you get on track academically or improve your confidence or performance:  https://sass.queensu.ca/programs/appointments/

Are you feeling...?

 

Indecisive about what to spend time on...and what NOT to spend time on?

It can help to remind yourself that you have made good decisions in the past. Asking yourself these questions may help you move forward, as can the related resources:

Do you have a good sense of where your time is going?
Do certain activities hold more "weight" for you?
Is there something in particular (information, opinion) that will help you feel more comfortable prioritizing a given activity?

 

RESOURCES:

Decision-making worksheet  (PDF, 309 kB)

Decision-making matrix (PDF, 123 kB)

Decision-making tree example (PDF, 189 kB)

Make an appointment to meet with a career counsellor.

Are you wondering...

 

What's 'best" for your future?

This is a big question. It takes time to figure out about yourself and also about what's "out there". Here are some resources and tools to help you get started:

Are you exploring or wondering about options?
Do you have a particular career goal in mind?
Have you done research to find out what skills/experiences are most helpful to get you where you'd like to go?

 

RESOURCES:

Here's a diagram that shows a process for finding career direction.

Come to drop-in career advising to move forward with this question.

Are you feeling...?

 

Curious about trying new things or wanting to change your commitments?

This can be exciting but sometimes daunting. Take a look at these questions and resources:

What activities are you (still) interested in?  What new activities look fun/exciting/useful?
Looking for something new or different?
Want to develop a specific skill?
Want to test something out to see if you like it?

 

RESOURCES:

AMS Jobs and Volunteering - https://myams.org/home/get-involved/opportunities/

Student Clubs - https://myams.org/home/clubs/

 

Are you...

 

Interested in perspectives on how to spend your time and what to take on?

Sometimes it is helpful to hear what others think about an issue. Here are some links to consider:

 

RESOURCES:

Strategic Volunteering: Lessons from a Mature Student -  https://olc.sfu.ca/blog/strategic-volunteering-lessons-mature-student

Strategic Volunteering and Why It Matters - https://strategicvolunteering.blogspot.ca/

Gretchen Rubin (The Happiness Project):  7 tips for deciding how to spend your time - https://www.linkedin.com/pulse/7-tips-making-happy-decisions-how-spend-your-time-energy-rubin/

The top 10 skills employers want in 20-somethings:  https://www.forbes.com/sites/susanadams/2013/10/11/the-10-skills-employers-most-want-in-20-something-employees/
So far, Allison is Adding It All Up to:  Engineering Education Grad School
Allison has always had a passion for helping students find information and make informed decisions.  When choosing which activities to become involved with on campus, Allison decided to participate in those that were useful to her when she used the services. Allison explains, "I remember being confused and intimidated when I needed to ask for help or advice, by volunteering with this experience, I hope to make it easier on students who are looking for information!" 
Allison has done just that. In her undergrad at Queen's, Allison was a Student Ambassador and Integrated Learning Centre (ILC) tour guide for prospective students and parents wondering about engineering. After returning from her undergraduate internship with QUIP, Allison also began volunteering at the Ontario University Fair, sharing her experiences with Queen's Applied Science program and answering questions from prospective Queen's students. Her passion was so obvious to a relative of one student, that he offered her his business card for further networking! "I was not expecting my volunteer experiences to add up to networking opportunities – it was a happy surprise!" jokes Allison.
Now, a 2nd year Masters of Applied Science student in Mechanical Engineering and Engineering Education, Allison is a Career Services Peer, providing resume checks for QUIP applicants. She is also a Teaching Assistant within the Faculty of Applied Science. Initially applying to be a TA to help younger students with design projects and technical communication skills, this position, as well her volunteer activities helped drive the development of her Master's research question: How do grade 12 students learn about engineering and how do their math, science and guidance counsellors help them in this discovery?
Outside of Engineering, Allison also enjoys intramural soccer, ultimate Frisbee and participating with the Most Autonomous Sailboat Design Team (MAST), as well as going to the Grad Club for trivia! Participating in these activities, as well as volunteering as a tour guide, has allowed Allison to gain critical skills in teamwork and managing large groups. In sharing her experiences with other students, Allison was able to communicate "how good of a 'fit'" the program was for her and how she enjoyed the content of the degree, despite the stressful demands of the program.
Overall, Allison's desire to help students make education decisions about their future and the volunteer activities she has undertaken to do this, have allowed her to add it up to a degree in Engineering Education.  
Hilary is Hoping It All Adds Up to:  Becoming a Film Editor
During her undergraduate degree, Hilary pursued a BAH with a major in film and a minor in English. However, the further she progressed in her studies and the more volunteer activities she undertook, the more she realized her current degree was not working for her.  "I decided to focus more on interests that aligned with my chosen career path, and let some of my other interests go," explains Hilary. Hilary made the decision to drop her minor, in order to accommodate more film courses. She also gave up other interests, like acting in the Drama department's productions to make more time for other film-related interests.
While these sacrifices were difficult to make, they were not without gain. With extra time to devote to film-related interests, Hilary started searching for opportunities on campus and in the Kingston community to develop editing-specific skills. Hilary volunteered as an assistant editor on a local film, participated in FOCUS film festival and the Kingston Canadian Film Festival, volunteered with QTV and secured a part-time position with their video production company.   Hilary is currently a freelance film editor and a barista, saving up for film school.
By taking advantage of film related opportunities, Hilary was able to gain valuable career-related skills. Her courses, in both Film and English, allowed her to master the art of storytelling, thinking logically and helped her develop a strong work ethic. It was through her volunteer and work opportunities that she gained technical skills related to film editing, as well as responding to client feedback and meeting deadline independently and as part of a team. Through skills gained, Hilary is adding it up to film school with the end goal of being a film editor.  
Holly is Hoping It All Adds Up to: a Future in Global Health or Health Promotion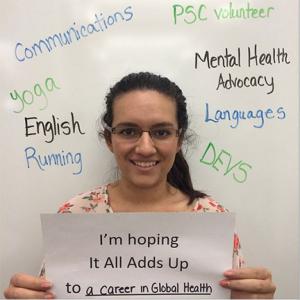 Holly is an undergraduate student in the 3rd year of a BAH in Global Development Studies and English.  She enjoys studying within the field of development as it allows her to connect with global issues and learn more about marginalized populations around the world. Her degree path and leadership roles on campus have also allowed her to pursue her love of helping others.
This year, Holly is co-chair of the Mental Health Awareness Committee (MHAC), after having shared her own personal story with mental illness in first year and having coordinated residence workshops on mental health in second year. She is also a manager for the Peer Support Centre (PSC). Both of these ventures have helped further develop her interest in mental health advocacy and education, which began in high school. Many people may not know, but Holly was awarded the Queen's Diamond Jubilee Medal for her initiative of hosting anti-bullying workshops within Northern Nova Scotia. Her love of educating others on the importance of living healthy lifestyles, as well as implementing policies and practices regarding mental health into the social system, allowed her to finish a two year term as a member of the Nova Scotia Youth Advisory Council.
Holly also knows the importance of spending time doing activities purely for fun. Much of her spare time is spent doing yoga through Queen's Yoga Club, running, spending time with friends or trying new recipes.   By combining her desire to help others, along with her degree programs, Holly is hoping it adds up to a Master's degree in Global Health or Health Promotion. 
Angela is Adding It All Up to:  Teaching at a University
Angela Du is a Bachelor of Education student in the Concurrent Education (Intermediate-Senior) program. She graduated with a Bachelor of Arts (Honours) degree in 2014, earning a major in English Literature and Language Arts and a minor in French Studies. While working on her first degree, Angela decided to pick a variety of activities that suited her interests.  Some of her highlighted activities include going on exchange during third year to France, where she was able to apply her knowledge and skills in French Studies and gained a better understanding of different education systems around the world. This year, she is a part of two student organizations: Worth and Authentically U, which deal with gender issues and eating disorders. Being a part of these two committees has not only allowed Angela to engage with social issues, but has helped to develop her teamwork skills, empathetic nature and other professional skills that will help to expand her teaching. As Angela suggests, "as a student, wouldn't you want to know that your teacher was committed to student initiatives"?
After obtaining her B.Ed, Angela hopes to add up her degree and experience by continuing her education in a graduate studies program with the ultimate goal of teaching at the university level. Angela admits that her love of English literature, teaching and interaction with faculty members have helped her make this decision. "I have professors Shelley King and John Pierce to thank for an incredible introduction to research. I worked with them in their recovery project on little known female author Amelia Opie," explains Angela. This experience has allowed her to refine her methodological research skills, while learning more about the experiences of those working in the English department and what kind of teacher she would like to become.  Looking forward to a possible career in teaching English, Angela says "[she] can't wait to go on with my education and meet more like-minded, and importantly, unlike-minded people."

Don't forget to also follow #italladdsup on social media!
Want to join or post but don't use Instagram?  Use hashtags #italladdsup and #queensu on Twitter or Facebook.  Follow us on Twitter (@mycareerqueensu) or Facebook (Queen's University Career Services)
It All Adds Up is a campaign promoting career health, brought to you by Queen's Career Services and the Alma Mater Society (AMS).