Are you an Educator wanting to use the Skills Cards?
Do you want to help your students become more clear and confident in their skills?
The Queen's Skills Cards can help students: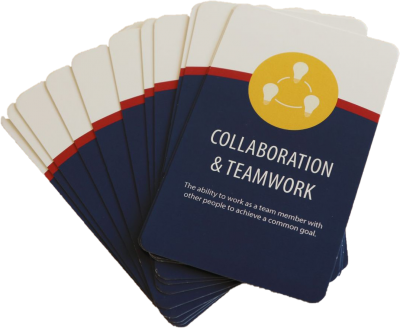 Reflect on the connections between their academics (degree or specific courses) and the skills they have developed
Activate their learning from for-credit or not-for-credit experiential learning activities
Prepare to speak with employers or graduate programs
Gain confidence in telling their unique stories

Skills cards are a physical and digital set of 44 cards describing a comprehensive list of skills that students can develop during their studies (both in and outside of classes), and that correlate with skills employers are seeking.
Each card includes a definition of the skill and an example of a student using that skill in the Queen's context. The skills are organized into 11 categories, and each category contains four cards:
Collaboration
Communication
Connection
Growth Mindset
Engaged Citizenship
Inclusivity and Intercultural Competence
Knowledge
Leadership
Professionalism
Self-Awareness
Thinking ​

The Skills Cards are available as a physical deck of cards, an interactive digital tool, and a PDF. Whichever version students use, they will sort the cards based on their own strengths and preferences, and leave with a summary of their skills assessment. Students can use either of the digital versions on their own, or a Career Counsellor can guide them through using the physical or digital version.
I want to refer my students to using the Skills Cards themselves: Click HERE to access the Skills Sorter, then click the "Instructions" and "User Controls" buttons on the left to get started! Please note: the Skills Sorter will take a few moments to load. Try refreshing the page if it doesn't appear after a minute or two. For a simpler but less interactive digital version, click HERE.
 
I want to book a Skills Cards session for a group I teach, advise, or coach: Click HERE to request a Career Counsellor to facilitate a customized activity for your students.
 
I want to learn more about facilitating Skills Cards activities: Click HERE to access the Queen's Skills Cards Facilitator Guide, and click HERE to email the Skills Cards team with any questions you may have about using the tool and/or guide to help your students identify and articulate their skills.