Are you a Queen's alum looking for help with a career decision or transition?  Career Services can help with: 
Do you ever wonder where Queen's alumni end up after they graduate? Are you curious how they got there and what helped them achieve their success? If this sounds like you, check out the Alumni Roadmaps (PDF, 631 KB)!
Co-created by Queen's Student Alumni Association (QSAA) and Career Services, the Alumni Roadmaps were designed to provide a snapshot of important career information gathered from information interviews with Queen's alumni. For the benefit of current students and recent alumni, each roadmap contains career advice and insights from the alumni, along with impactful skills and experiences that helped them achieve their career success.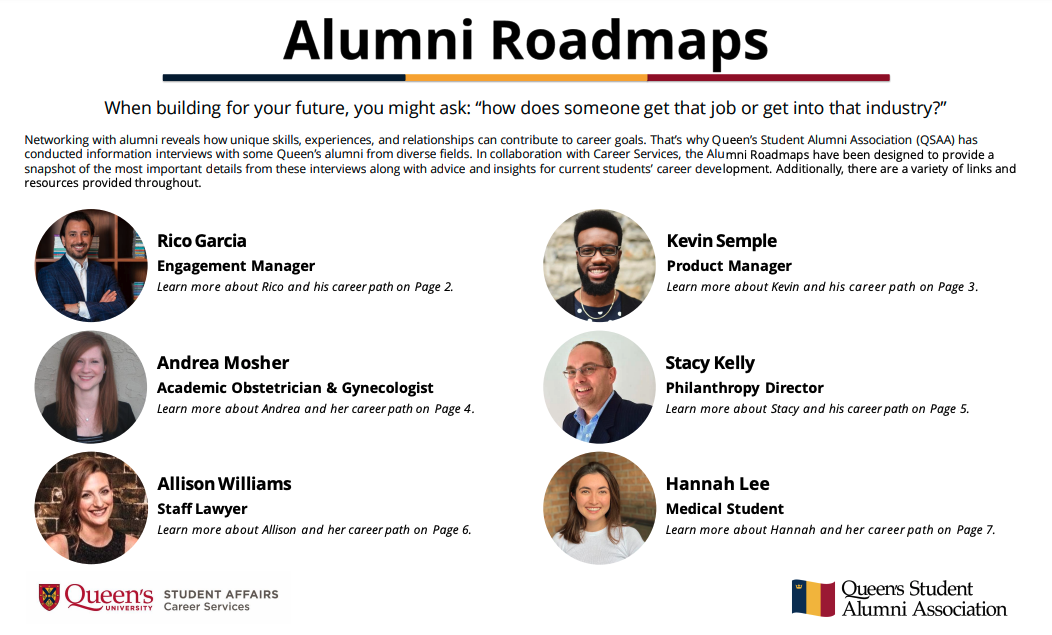 Recruitment & Hiring Help
Career Services offers a range of ways to help you hire for part-time, summer, after-graduation, contract and internships positions.  They include: 
Job Postings: Post part-time, summer jobs, after-graduation jobs & contract jobs for Queen's students and alumni 
QUIP (Queen's Undergraduate Internship Program): Hire undergraduate Queen's students to spend 12-16 months in paid, full-time internships with your organization
Attend a fair: Join us for one of our annual Career Fairs to meet eager and talented Queen's University students and alumni
Hold an event: Come on campus to connect with, inform and hire students and alumni