Are you up for the challenge?  
One year.  One project.  Unleash your potential.

The Pathy Fellowship provides community-focused experiential learning opportunities for graduating students to become active and effective change-makers, bringing new ideas and working closely with communities to foster sustainable and positive social change in Canada and around the world.
The year-long fellowship is for graduating students who have:
demonstrated the capacity and potential to develop as effective change-agents;
a meaningful connection with a community of their choosing locally, nationally or internationally; and,
either have an innovative idea of how this community could be strengthened or developed OR a connection with a positive sustainable community development initiative in any field already underway within this community that they would like to build upon.
Successful candidates will receive up to $40,000 in funding.
Want to hear more about the Pathy Fellowship Experience and why we think this is such an amazing post-graduate experience? Check out the Campus Beat podcast where former Pathy Program Assistant and returned fellow, JP Dobson, shares insights about his experience!
Upcoming Events
Pathy is offering two types of fall events and 1-1 student advising this year.  Use Pathy's LinkTree to find dates and registration info.
Pathy Foundation Fellowship Group Application Support
Pathy Foundation Fellowship Group Application Support provides candidates who are interested in applying for the Fellowship with a space to ask questions and support one another in developing their applications. This one-hour workshop will consist of introductions, a preliminary Q&A session with the Program Assistant, candidate breakout rooms to discuss project ideas, and an additional Q&A with the Program Assistant.  
Join us to get answers to your most pressing questions, connect with like-minded peers, and receive support in developing your project idea and application from the Program Assistant and other candidates! 
Turn Your Passion into a Pathy Project
"Turn Your Passion into a Path(y Project)" is an interactive workshop that helps you explore your passions and facilitates project ideation in a group setting to support you in preparing to apply to the Pathy Foundation Fellowship. Whether you're about to graduate and are trying to figure out what comes next, or you're just starting out in your post-secondary career but are looking toward the future, this session is for you!  
In this workshop, you'll work through the initial steps of project ideation and come away with resources and steps that will help you make your passions a concrete part of the rest of your life through the Pathy Foundation Fellowship. Join us and connect with like-minded peers, share your ideas and experiences, and learn about how you can action your passions and skills to make a positive impact in the world around you. Unlock your potential, and turn your passion into a path
1-1 Advising with Pathy Program Assistant
Use Pathy's LinkTree to book 1-1 appointments on a Monday, Wednesday, or Friday with the Pathy Program Assistant, Courtney Murdoch.  Courtney completed a Pathy Fellowship in 2021-22 and now plays a critical role in coordinating the fellowship; we highly encourage all applicants to meet with Courtney for feedback on their project ideas and applications.  
Queen's Career Expo
A representative from Pathy will be attending the Queen's Career Expo on October 4 (Career Exploration Day) from 10:30-3:30 in the Main Gym, ARC.  Students can register in MyCareer or drop-in at any time to visit the Pathy boot.
Application Timeline
Applications for the 2024-25 Fellowship Cohort will open on September 11, 2023 and are DUE on January 5, 2024.

Visit the Pathy website for more information

 about eligibility criteria and to complete an Expression of Interest.

For an initial 1-1 advising appointment with the Queen's Pathy Fellowship Advisor, email: pathyfellowship@queensu.ca
Queen's Pathy Fellows, 2023-24 Cohort
Congratulations to the following four successful fellows! We'll share more info about each fellow soon!

Aubrey Apps 
Community: Sexual Violence Prevention Response Community, Kingston, ON 
Initiative Synopses: Youth for Consent Culture 
Youth for Consent Culture (YCC) seeks to address gaps in Kingston high school students' understanding of consent and healthy relationships. Providing workshops with a focus on prevention to bridge such gaps intends to strengthen the sexual violence prevention response community. 

Anthony Ighomuaye 
Community: Rickshaw Drivers Community, Lagos, Nigeria 
Initiative Synopses: Revolutionizing Rickshaw Energy Ecosystem for Self-Driven Sustainability 
Improving the earnings of rickshaw drivers and reducing operating costs by building a renewable electric infrastructure to serve communities as well as to let rickshaw drivers convert to electrical systems. This will encourage adoption and drive the future of self-driven sustainability by having rickshaw drivers and others power their homes. 

Sara-Maya Kaba
Community: Youth (ages 14-18), Pakistan 
Initiative Synopses: آواز Aawaaz: Mental Health Promotion Through Performing Arts 
Aawaaz aims to increase mental health awareness and support for youth in Pakistan by building communities of solidarity united by shared artistic experiences. Through the medium of performing arts, both as a process for learning and a product to be used to convey information to larger community circles, Aawaaz hopes to empower youth to work to address the lack of mental health support in Pakistan.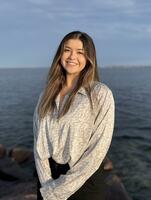 Jacqueline Tomazic 
Community: Pamoja Tunaweza Women's Center, Moshi, Tanzania 
Initiative Synopses: Menstrual Health and Empowerment 
Improving menstrual health and hygiene amongst schoolgirls in Moshi, Tanzania through accessibility of sustainable products, education and empowerment programs, and clinical resources and outreach. 
To find out more about the 2021-22 Pathy Fellowship Cohort and their initiatives, read the official Coady Institute announcement.
To find out more about previous Queen's Pathy Fellows, check out the articles in the Queen's Gazette profiling the 2017-2018 Fellows and the 2018-2019 Fellows.
Questions?
For more information, please contact the Queen's Pathy Fellowship Advisor at pathyfellowship@queensu.ca