Are you up for the challenge?  
One year.  One project.  Unleash your potential.

The Pathy Fellowship provides community-focused experiential learning opportunities for graduating students to become active and effective change-makers, bringing new ideas and working closely with communities to foster sustainable and positive social change in Canada and around the world.
The year-long fellowship is for graduating students who have:
demonstrated the capacity and potential to develop as effective change-agents;
a meaningful connection with a community of their choosing locally, nationally or internationally; and,
either have an innovative idea of how this community could be strengthened or developed OR a connection with a positive sustainable community development initiative in any field already underway within this community that they would like to build upon.
Successful candidates will receive up to $40,000 in funding.
Want to hear more about the Pathy Fellowship Experience and why we think this is such an amazing post-graduate experience? Check out the Campus Beat podcast where former Pathy Program Assistant and returned fellow, JP Dobson, shares insights about his experience!
Upcoming Events
To register for any of the upcoming events and student advising hours, use this LinkTree link
Candidate Info Sessions

Sept 8 (6 pm Eastern)
Sept 15 (1 pm Eastern)
Sept 21 (9 am Eastern)
Sept 26 (9 am Eastern)
Oct 6 (9 am Eastern)
Oct 12 (11 am Eastern)
Oct 19 (12 pm Eastern)
Missed the live info sessions?  While live sessions and 1-1 advising are the best way to learn about the fellowship and get feedback on your project ideas, this pre-recorded info session provides an overview of the structure of the program, eligibility requirements and tips for building a strong application.
Workshops

Sept 19 (10 am Eastern); Building Self-Trust and Self-Care in Leadership + Life Q&A on Facebook Live with Personal Development Coach, Sarah Lajeunesse
Sept 29 (5 pm Eastern); Turning Your Passion into a Path Workshop
October 3rd (6 pm Eastern): Turning Your Passion into a Path Workshop
October 27 (6 pm Eastern): Application Support and Q&A
October 28 (11 am Eastern): Application Support and Q&A
Student Advising Hours with Pathy Program Assistant, Courtney Murdoch (Pathy Alum): Sept 12, 13, 19, 20, 27, 28 (9am-5pm Eastern); Oct 3,4,5,13,14,17,18, 25, 26, 31 (9am-5pm Eastern); Nov 1, 2, 3, 4, 7, 8, 9 (9am-5pm Eastern).  
Application Timeline
Applications for the 2023-24 Fellowship are NOW OPEN! Applications do not need to be completed in one session; you can open, save and return to the application at any time between now and November 10, 2022.
APPLICATIONS DUE: 2 PM EST on November 10, 2022.

Visit the Pathy website for more information

 about eligibility criteria and to complete an Expression of Interest.

For an initial 1-1 advising appointment with the Queen's Pathy Fellowship Advisor, email: pathyfellowship@queensu.ca
Queen's 2021-2022 Fellow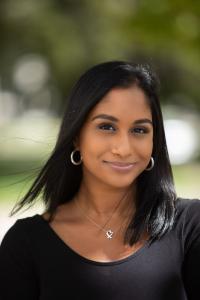 Prishni's Initiative: "Coming together to target family violence," Start With Youth, Toronto,ON
Listen to Prishni talk about her project and her experience with the Pathy fellowship on the Campus Beat podcast! 
Starts With Youth is an initiative that aims to target the issue of childhood abuse and intergenerational trauma through community-building and educational resources. Studies indicate that 1 in 3 of those who are abused in childhood go on to become abusers themselves. Although this statistic is deeply saddening, Prishni believes it also shows a solution. Their mission at Starts With Youth is to create a generation of current and future caregivers that are aware of the effects of their own trauma, are able to reach out for help, and are overall, better equipped to be their best self for their kids. With the Pathy Fellowship, she hopes to further their current social media traction in order to effectively disseminate information related to recognizing, understanding, and recovering from abuse and trauma. Prishni envisions Starts With Youth as a wraparound, pre and post-intervention service, and also intends to develop a comprehensive, culturally-informed Resource Bank and implement a set of educational workshops related to the topic of intergenerational trauma in family environments. 
To find out more about the 2021-22 Pathy Fellowship Cohort and their initiatives, read the official Coady Institute announcement.
To find out more about previous Queen's Pathy Fellows, check out the articles in the Queen's Gazette profiling the 2017-2018 Fellows and the 2018-2019 Fellows.
Questions?
For more information, please contact the Queen's Pathy Fellowship Advisor at pathyfellowship@queensu.ca